Osperity's all-in-one OMNI solution empowers organizations to automate and remotely manage industrial operations
​
The Advantages Provided by OMNI are Exceptional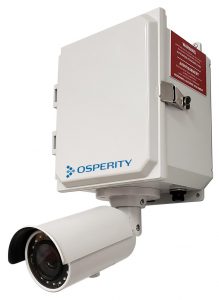 Remote and distributed locations are time consuming and costly to monitor. 
Osperity removes these challenges by enabling organizations to visually inspect and monitor their remote locations from anywhere with any connected device.
Capitalize on improved productivity, lower costs and reduced risk to employees and assets, with instant access to events or activities of interest, for faster and more accurate decision-making.
Cut routine site visits by 50% or more
Get automated, personalized, timely and accurate alert notifications
Deployed as a managed service, outside of corporate IT infrastructure
Validate contractor billing against time stamped images
Bandwidth-efficient data management
Monitor health and status of critical infrastructure
Monitor safety and compliance of lone workers
Ability to scale up to other Osperity services
Cut costs by not having to monitor video streams 24/7
True management by exception
Low Operating Costs - High ROI
Contact us today to learn more about this solution.
For the low price, starting at $125 per month, your OMNI package includes:
HARDWARE
Industrial grade hardware from world renowned manufacturers.
Enclosure
Type 4X Polycarbonate
Complies with: UL 508A, UL 94, UL746C, CSA,
NEMA, IEC 60529, RoHS
AXIS M2025-LE Network Camera (or equiv.)
Outdoor-ready, IP66- and NEMA 4X-rated
HDTV 1080p
Built-in IR illumination
115° field of view
Zipstream technology
Microhard IPn4Gii Modem (or equiv.)
Firewall / ACLi
Multi WAN Failover
Dual Ethernet
4G LTE
Programmable I/O
3 – Serial Ports
Cellular LTE network data and management
Video analytic calibration and tuning
Unlimited user licenses and system access
Unlimited, customizable alerts and
automated reports
6 months of cloud data storage
Full remote training for all users
Access to other Osperity products &
services
OMNI – A True Management by Exception Solution
Osperity platform is not simply a Video Surveillance as a Service (VSaaS) tool streaming to the cloud. We use advanced AI and machine learning tools to train an algorithm to distinguish different things in an image.
Our platform can recognize people, trucks, heavy trucks, SUVs, Tankers, Fire/Smoke, PPE and certain types of animals/wildlife – and more! This is important because while we can detect occurrences like these and alert on them, we can also ignore events that are not valid, for example; snow, rain, leaves blowing, etc.
We can set the algorithm to detect people only, and disregard everything else, cutting down false alerts to almost zero.
With the current market environment, we understand the need to operate more efficiently is paramount. As you and your teams strategize on how to cut operating expenses, we challenge you to think outside the box and lean on technology to operate more efficiently in the current downturn and increase your profits in a highly competitive market.
For many companies in the energy industry, eliminating costs such as truck rolls and focusing on true problem areas are top of mind. In addition, vast improvements in safety, compliance, and environmental protocols can be realized just as quickly.
These major cost reductions in the field can provide a tangible ROI from 50% to 200% in the first year. Similar returns can be expected in numerous other industries such as mining, construction, waste management, water management etc.
Osperity Platform Benefits
Osperity's Intelligent Visual Monitoring platform and technologies has shown to be an integral component to realize companies' digital innovation, automation or "management by exception" objectives, our platform integrates with both new and legacy cameras (visual sensors) along with SCADA data, and sharing into other enterprise systems.
With the ability to connect with SCADA and other industrial systems, Osperity also provides visual validation of non-visual data, giving customers greater insight into their operations.
Osperity is a true enterprise solution that delivers efficient online access to assets and activity from across your entire operations, enabling significant operational improvements. With Osperity, companies can increase productivity through virtual asset inspections, improve HSE compliance with automated leak and safety monitoring, as well as strengthen security and accountability through proactive activity detection and exception-based alerting at remote sites.
These are just a few examples of how Osperity delivers a strong return on investment by improving productivity, lowering costs and reducing risk.
Cut routine site visits by 50% or more – Through remote site monitoring saves windshield time and labor costs via online inspections and alerts.
 Prioritize activity – Gets automated notifications of activities when and where you want alerts. Inspect your sites more frequently with daily automated reports and respond quickly to problems.
Improve productivity – Empower your operators to focus on preventative maintenance, more effective provisioning and higher-value work.
Increase profitability – Decrease operating costs and improve production uptime.
Audit employees and contractors – Visual validation of timecards and contractor invoices, decreasing costs and ensuring greater accountability/procedural compliance.
Increase security and activity awareness – Understand the activity that occurs and both manned & unmanned assets while increasing security with activity alerts by utilizing intelligent asset monitoring
Enhance safety –  Monitor and inspect hazardous areas remotely, ensuring employee and contractor safety
Osperity OMNI – A solution for the entire Enterprise
Security
Monitor and alert on activity at remote unstaffed sites.

Proactive theft and vandalism prevention.
Operations
Reduce routine visits to remote sites.

Monitor health and status of critical infrastructure.

Save on travel time and labor costs.

Proactively prioritize maintenance and repair work.
HSE
Monitor and protect water assets from contamination and theft.

Monitor safety and compliance of lone workers.
Legal/Regulatory
Validate contractor billing against time stamped images.

Use historical video for reporting, audit trails and evidence.

Help with incidental investigations