Read our Client Success Stories
Client Success Story – Injection Well Leak Detection:
See how our client, using Osperity, is immediately alerted when a leak is detected.
Cutting Routine Site Visits by 50% with Osperity:
See how a customer cut routine well site visits, while enhancing operator productivity and improving incident response.
Proactive Security for Industrial Sites:
Learn about how Osperity with computer vision-based alerts lead to arrests at unstaffed site.
Midstream customer remotely inspects hazardous zones with Osperity:
Learn how this solution delivered critical operational benefits for the customer, including a one year ROI of 175%.
Remote work supervision enhances safety and accountability:
Read about how Osperity's computer vision technology helped recover several thousand dollars in costs for an unreported spill at a truck loading site.
Osperity an efficient way to remotely inspect sites:
Learn how our customer avoids costly helicopter trips during spring break-up.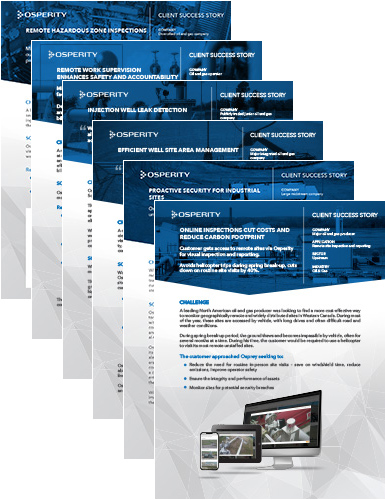 To download our Case Studies, please fill out the following information.