Monitor Your Field Operations Efficiently — From Anywhere
Osperity is the most advanced online visual monitoring system for remote assets and sites. Proven in the field to enable a 50% reduction in routine site visits. Manage your sites cost-effectively, prioritize work, and increase productivity.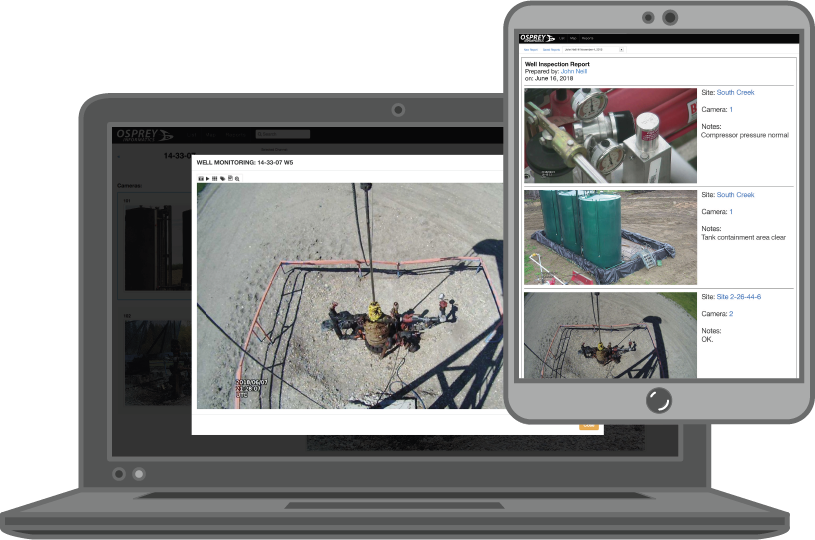 Proven Operational Benefits
Maximize productivity and reduce your operating costs when you monitor your remote assets with Osperity. Choose the solution that's proven in the field to drive the ROI that you need.

Cut Routine Site Visits by 50%
Save on windshield time and labor costs with online inspections and alerts.

Prioritize Work
Get automated notifications when your pumpjack stops. Inspect your sites more frequently and respond quickly to problems.

Protect the Environment
Change Increase Profitability to Monitor Activity - Get automated alerts for potential security events. Monitor workers for safety and compliance.

Monitor Activity
Set personalized, proactive alerts for site activity. Customize by activity type, time, sites and more.
Get Our Oil Well Monitoring Case Study
Choose Osperity for Efficient Operations

Reliable and easy to implement:
Delivered as a managed service, with nothing to install or support. Deployed outside of corporate IT infrastructure. Works with virtually any IP or analog camera.

Deployable anywhere:
Extremely data-efficient architecture. Suitable for low-bandwidth networks, including cellular.

Efficient to access and use:
Accessible online over any computer or mobile device. Efficient user interface and customizable alerts and reports for maximum worker productivity.

Connects with sensors and systems:
Integrates with sensors, pumpjack drives, asset management systems and more for alarm validation and improved situational awareness.
Get the Osperity advantage.