Intelligent Automated Visual Inspections for Industrial Applications - Easy to access, efficient to use

Save money, increase safety, lower windshield time, improve HSE and cut down on emissions
Osperity is the most advanced online intelligent visual monitoring platform for remote asset inspection of distributed oil & gas, utilities and construction sites and assets.
Osperity's Automated Visual Inspection is a low-cost, high ROI benefit our platform provides. It is proven to reduce time to inspect sites and assets by up to 90% while minimizing risk, reducing carbon footprint and windshield time.
Osperity enables you to manage and access all your sites remotely through a single application, whether using a smartphone, tablet or desktop computer. Using Osperity, organizations can efficiently and conveniently access live and historical images and video of their assets, such as tanks, batteries, hazardous zones, wells, transformers and other critical infrastructure.
During in-person inspections, operators look for many things, including irregularities in the appearance and integrity of their assets, items hazardous to personnel, evidence of leaks, equipment settings, and general site cleanliness.
Depending on the drive time required and the distance inspectors walk, a single inspection can easily take 2-3 hours. This means a daily inspection of a single facility could require upwards of 20 hours a week.
Using Osperity's Automated Inspections, an online inspection will lower your time inspecting to just one hour a week, a proven reduction up to 90%.
Contact us today and inquire how we can help

Phone:

587-430-0246
Osperity's Automated Visual Inspections for Industrial Operations is greatly simplifying the inspection process for HSE, producer and production teams.
Carbon Emission Offset Calculation Sheet with Savings and ROI
Use this calculator to get an estimate of how much gasoline and CO2 you can save. Pick the one that is applicable to you below (USA / Canada).
The data in this calculator is based on the average savings of clients using Osperity's Automated Visual Inspections. For more accurate data regarding your situation, please use the form above to contact us.

Leak Monitoring
Scheduled automated inspections of tanks, well heads, containment areas and equipment to monitor and mitigate leaks
Remote Inspections
Reduce or eliminate the need to have personnel travel to remote distributed assets to do scheduled inspections, while increasing your visibility to the asset and activity surrounding it.
Auditable
With all inspections time and date stamped by a third-party automated system makes the inspections fully auditable by regulators.
Industrial Remote Monitoring
Save Money, Increase Safety, Lower Windshield Time, Improve HSE And Cut Down On Emissions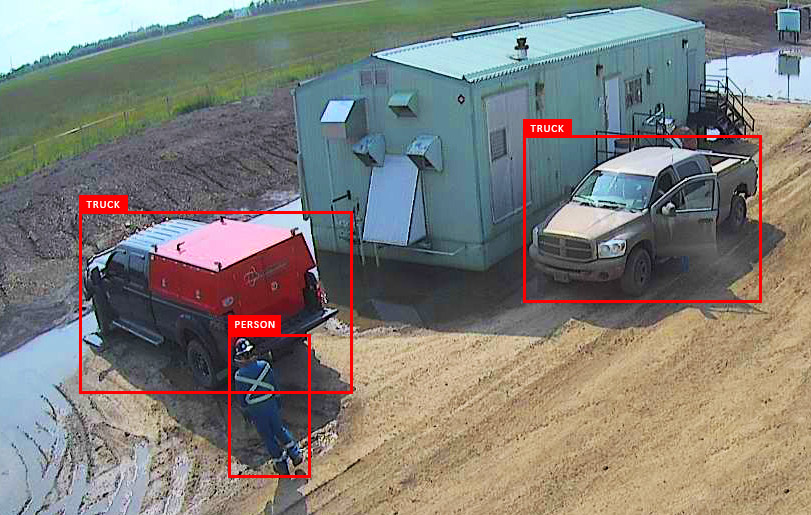 Many sites already have cameras present. Osperity fully support existing remote video industrial camera. These visual sensors can be connected to our platform enabling them to perform image recognition and AI classification.
The Osperity platform is not simply a CCTV surveillance or video surveillance systems (VSaaS) tool streaming to the cloud. We use advanced AI and machine learning tools to train an algorithm to distinguish different things in an image and automatically report on anomalies.
Easily turn images into information to provide real-time detection of events, things of importance and anomalies on the site. This information can be used to better assess productivity, security, risks and hazards.
AI Based Visual Inspections - Benefits
Osperity's platform captures video from a large number of cameras across a company's operations. It then analyzes this data with artificial intelligence which automatically detects activity or equipment anomalies from images and video. It also correlates data from other sensors and systems, for greater context and reliability. End users can then be notified on events of interest by creating personalized alerts and reports.
EHS / HSE
Osperity Inspections makes it possible to automate inspections remotely, creating better oversight and decreased response times to events, while reducing risk of injury and greenhouse gas emissions.
Financial​
Monitor that personnel is wearing proper PPE. Time traveling to and from the field.

Greatly reduce time conducting inspections.

Vehicle fuel, wear, tear and insurance.

Faster response times to events.
Auditability
All inspections are available online and can be downloaded for offline viewing and storage.

Reports are available to comply with internal and regulatory policies and to help with incidental investigations.
With Osperity's Automated Visual Inspections for Industrial Operations, you gain instant access (either online or via a PDF document sent through email) to a single location that includes images taken from selected cameras at the same scheduled time of day.
Administrators start by creating an inspection form. The form enables them to select the cameras, image order, people and schedule for the recurring inspection.
An inspection report is the output from an inspection form. The report is available as a PDF, accessed online or through an auto-generated
email, and in the web application.
For each form, users select the camera and PTZ presets to be included in the inspection. An inspection can include 1 camera or 100 cameras.
Once cameras have been selected the user has the option to order images as they will appear in the inspection report.
For security purposes and workflow management, users can be given different roles to limit who can create (Administrator) and edit (Editor) inspections forms, and view (Viewer) reports.
Administrators and Editors can add one or more schedules to each inspection form. A schedule consists of a time and date the report will be generated and delivered.
Administrators and Editors can add one or more users to receive scheduled inspection reports, and change the distribution list anytime.
Client Administrators can manage the inspection workflow on their own, scheduling as many inspections as they want and pausing them
when necessary.
Osperity's Intelligent Visual Monitoring platform and AI technologies have shown to be an integral component to realize companies' digital innovation, automation, cost savings, HSE and ESG objectives. The platform integrates with both new and legacy industrial IP cameras (visual sensors) providing a true visual management by exception environment for industrial operations.

Osperity assists industrial companies to reduce operational costs and mitigate safety and environmental risks through intelligent visual monitoring. With our platform clients are enabled to increase productivity through virtual asset inspections, improve health, safety and environmental (HSE) outcomes with monitoring and automated reporting, and strengthen security through proactive activity detection and alerting.
Osperity is a massively scalable cloud platform that is optimized for remote sites. It cost-effectively manages visual sensors at scale, analyzes the massive volumes of visual data with artificial intelligence (computer vision) and input from other systems, and distributes personalized, actionable information to end users.